Two American F-16s from Aviano AB flew a mission over Eastern Europe carrying live missiles today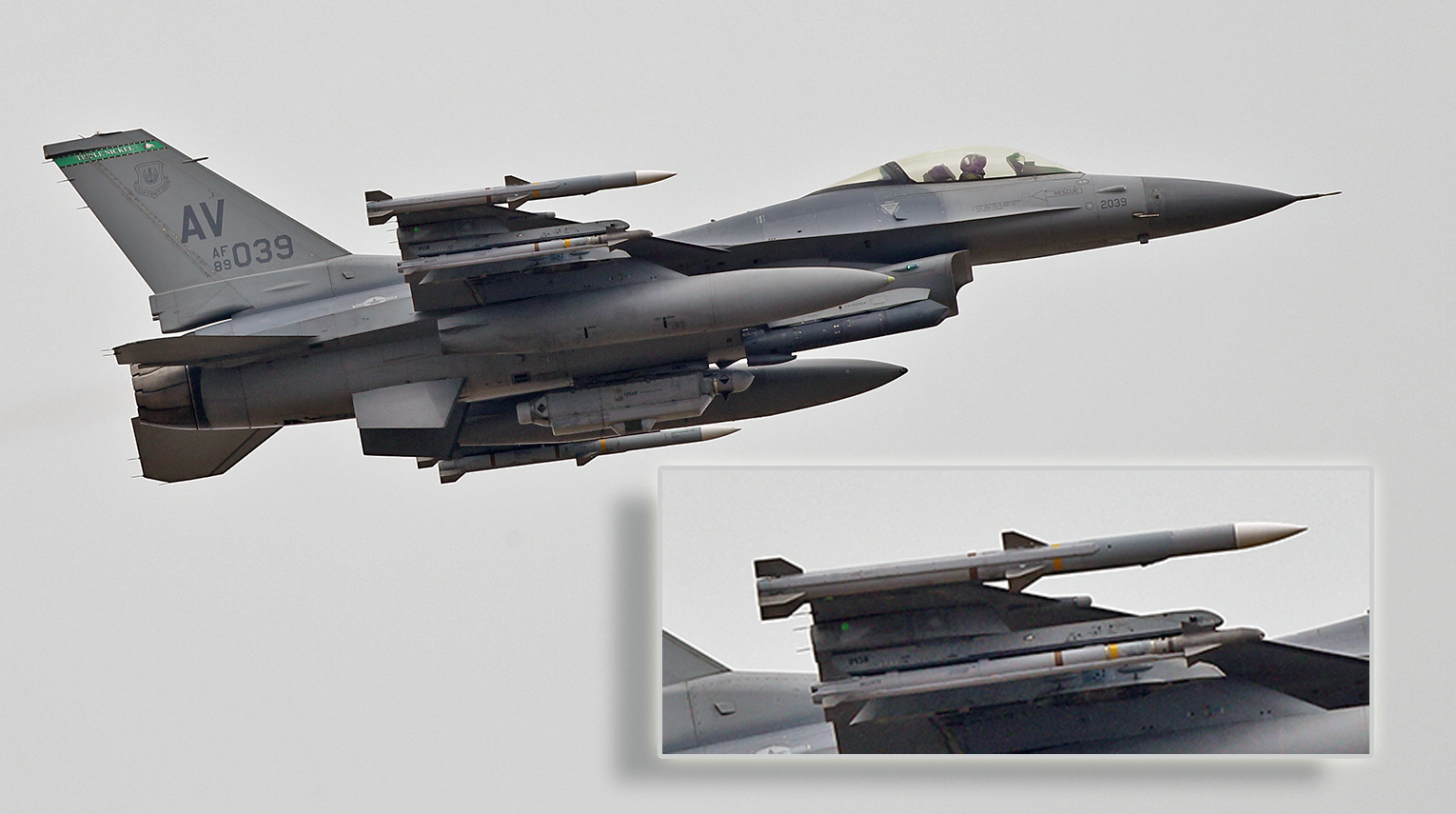 Photos taken today prove that at least two 31st Fighter Wing Vipers were launched from Aviano with live air-to-air missiles.
Two US Air Force F-16CM Fighting Falcon aircraft belonging to the 555th Fighter Squadron of the 31st Fighter Wing, based at Aviano Air Base, Italy, took part in a mission over the Eastern Europe carrying live arms, Saturday February 19, 2022.
The shots in this article, taken by photographer Claudio Tramontin outside Aviano, show the two planes, serial numbers #89-2035 and #89-2039, loaded with AIM-120C/D AMRAAM air-to-air missiles and AIM-9X as well as external fuel tanks.
The missiles were LIVE, as evidenced by the yellow and brown bands for the active warhead and active rocket motor, respectively. Interestingly, the Vipers also carried the AN/ALQ-131 ECM pod as well as the Sniper ATP (Advanced Targeting Pod). The pilots wore the JHMCS (Joint Helmet Mounted Cueing Sight).
To our knowledge, this was the second time that Aviano's Vipers flew in real armament since the beginning of the Ukrainian crisis. [first time, at least in daylight, was reported to be on Friday Feb. 18, 2022]. In addition, according to our sources, the two F-16s operated in Romanian airspace with other NATO and US assets for several hours before the RTB (Return To Base).
Over Romania, the F-16s of the 555th FS "Triple Nickel" were supported by American tankers (KC-135/KC-10) from RAF Mildenhall, whose racetracks could be tracked online by means of their Mode-S/ADS-B transponders.
USAF tanker activity over Romania
NCHO220, LAGR221, LAGR220 pic.twitter.com/FyTLIDGQzX

— RivetJoint (@SpeckleBelly64) February 19, 2022
This is not the first time Aviano's F-16s have operated in the Black Sea region armed with live air-to-air weapons. For example, in 2020, 31st FW Vipers participated in a joint exercise focused on realistic integration, exploitation and communication between surface and air assets to protect the maritime domain. The exercise was not announced in advance, sparking some curiosity among online flight trackers who began observing several military aircraft (unusually performing a training sortie on a Sunday morning in Europe ) en route to the Black Sea. At the time, the F-16s were in the same configuration as those spotted today. The main difference is the scenario: Eastern Europe now faces the threat of war. A Russian invasion of Ukraine appears imminent, with tensions at their highest in years and a large buildup near the borders of both nations.
The F-16s, along with other US and NATO fighters deployed on the eastern flank, were likely tasked with a deterrent mission, flying CAP (Combat Air Patrol) to ensure air superiority and DCA (Defensive Counter Air), and provide, if necessary, HVAAE (High Value Air Asset Escort) to the numerous ISR (Intelligence Surveillance Reconnaissance) aircraft monitoring Russian movements around Ukraine.
Today, at least 7 American ISR aircraft flew out over Europe: US Army RC-12X (YANK01, YANK02), ARTEMIS (BRIO68); USAF RQ-4 (FORTE10), RC-135W (JAKE11), RC-135U (HOMER69), E-8C (REDEYE6). 1/6 pic.twitter.com/A4EecdZjI9

— Amelia Smith (@ameliairheart) February 19, 2022