Tour de France Alt Tour de Lachlan Morton: how the tracking system and the site work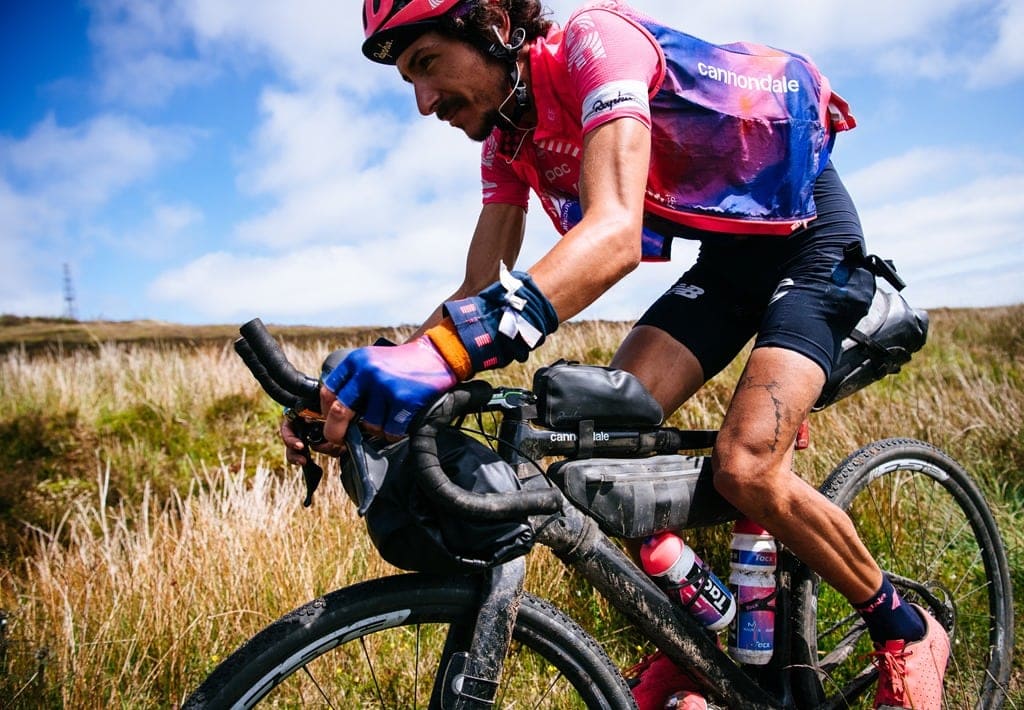 (Lachlan Morton and his fully self-contained setup, credit: Grubers)
By now you have no doubt heard of the so-called "Alt Tour" by Lachlan Morton of Team EF Education First. In short, it is solo riding not only the entire Tour de France route, but also all the "transfers". This means that every night, when a normal Tour de France rider ends his day at the finish, he normally jumps on the team bus and drives a few hours (or a lot of hours, or, in one case, a plane flight across the country). Instead, Lachlan rides it all – solo, unassisted. Also, unlike teams who can follow very direct highways for these transfers (and even parts of the TdF route), Lachlan cannot. He must take less direct secondary roads.
And, impressive as it is, it has been well covered in other media. Instead, I'm here to talk about the live tracking system it has. Because if there's something I'm doing well here, it's live tracking professional cycling events.
In Lachlan's case, the purpose of his suffering is to raise money to donate bikes to World Bicycle Relief. So far it has raised £ 146,094 – covering 1,217 bikes – and we're only on day four.
Ok, so let's talk about the Lachlan Morton tracking site. First of all, if you haven't seen it yet, you can go there. It is updated 24 × 7, at 60 second intervals. It's certainly worth noting that a big part of doing something like this is media attention for the sponsors. In this case, EF's sponsors are EF (Education First) and Rapha. And you'll see it on the site itself, which is designed to match the branding of the sponsors.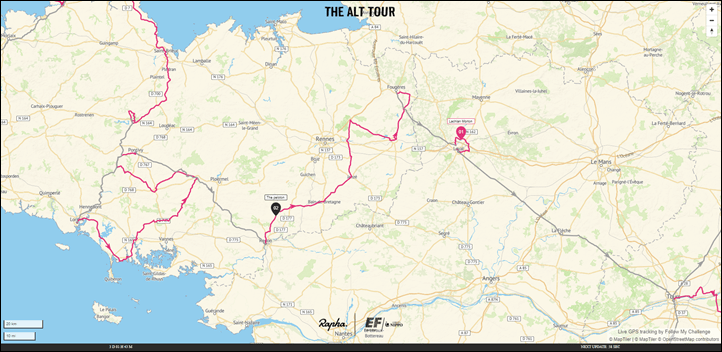 However, under the covers, the site and the tracker are managed by a company called "Follow My Challenge". They have been around for about 6 years, covering various events and challenges, from one person to 200 people. In their case, the whole solution is pre-designed. This means that they provide the tracker, the website, and even will handle the maps and overlays. But we'll get to that in a second.
Equipment :
There is no better place to start than with the tracking material: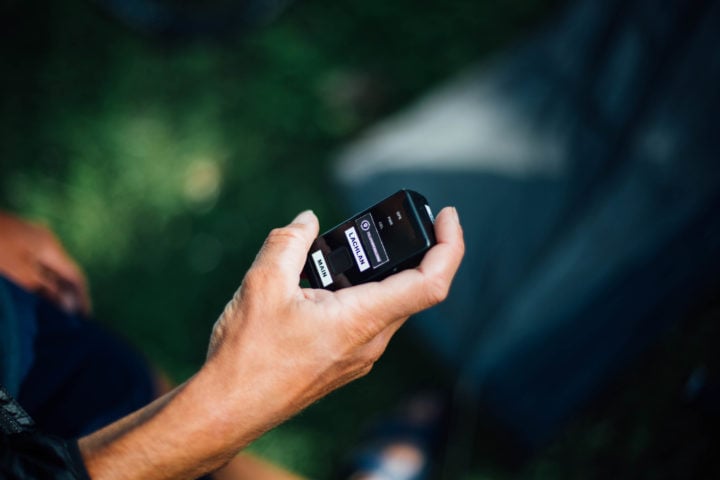 (A close-up of Lachlan holding the tracker, image of Rapha)
You can see this in an image provided by Rapha of the stack of equipment he is carrying with him. More precisely, he puts it in his Rapha + Outdoor Voices Bar bag. Or, as the rest of us call it – the white bag: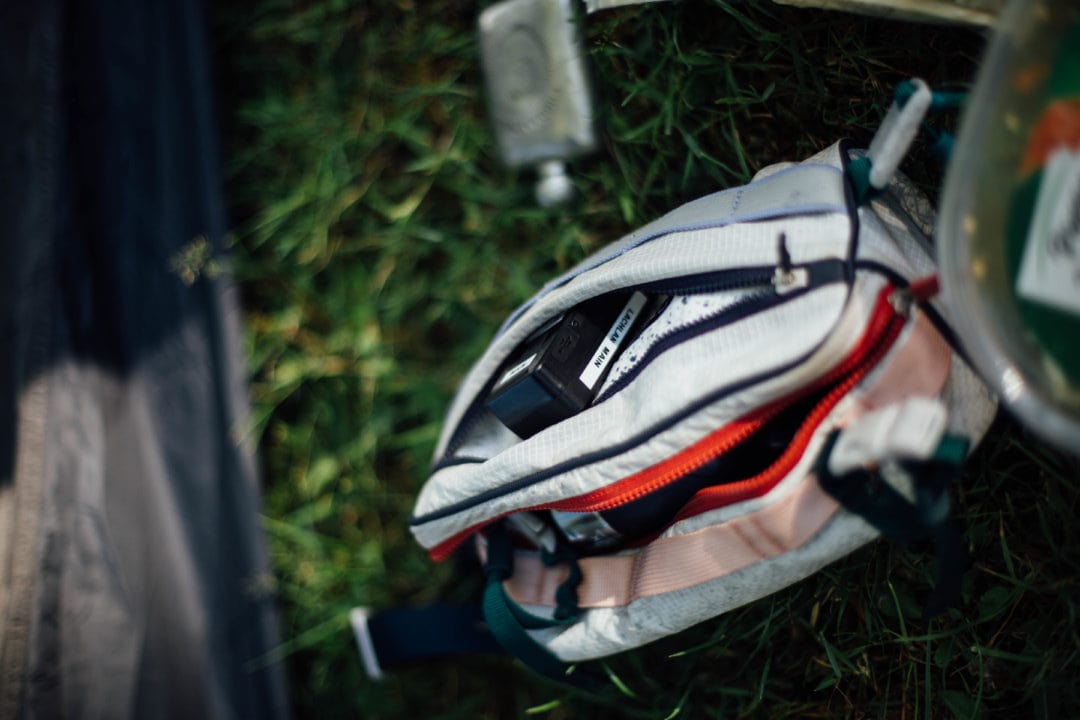 (The tracker in his bag, image of Rapha)
The tracker is technically a Queclink GL300MG, slightly renamed by Follow My Challenge. You would rent from them for a challenge. Anyone can register to use their service, for a month to several months. Here you can see the fee structure, which is reasonable enough if you are having a one-off multi-day event, to have full live tracking across all areas.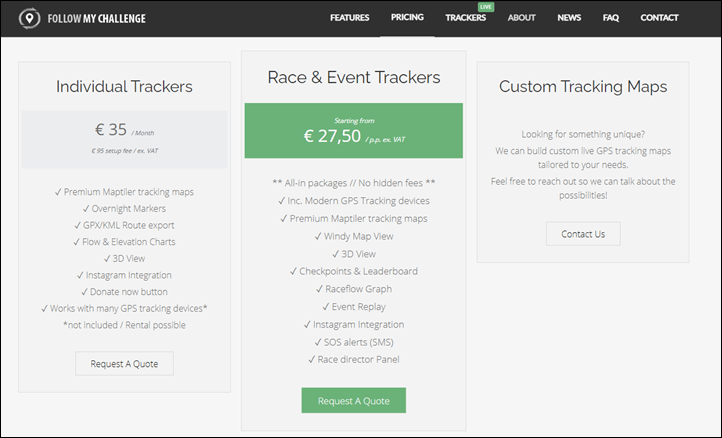 The device itself has a battery life of approximately 6-7 days, depending on nearby cellular conditions. While chatting with the folks behind Follow My Challenge, they said that for large fields with good connectivity it will be on the high end, while for deep mountains it will reduce battery life a bit ( as the tracker compensates by increasing the power on the cellular side). The company strongly recommends that athletes keep the tracker on 24/7, even when sleeping, as exhausted athletes often forget to turn it back on after waking up. The device contains an accelerometer, which automatically goes to sleep when it is idle.
Lachlan's team says he charges it every 4 days when electricity is available. It's not the first time he's used the Follow My Challenge tracker, either. He also did this during the Badlands.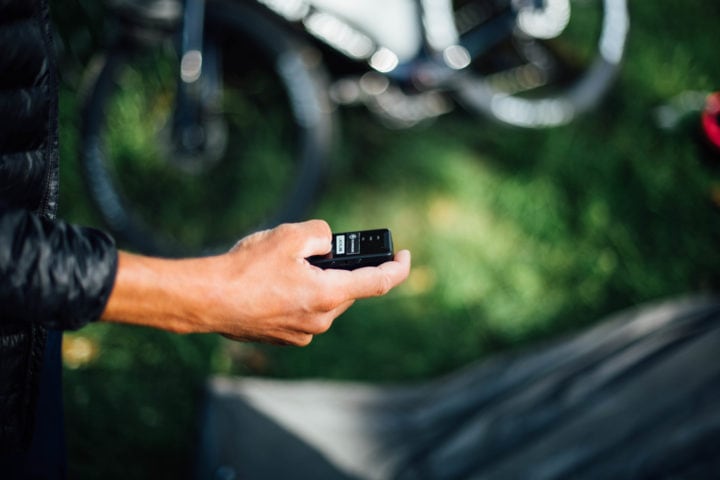 The tracker contains a roaming SIM card, so you don't need to add anything. It's already covered everywhere you walk. The device is primarily on LTE-M (just like Garmin's new Forerunner 945 LTE GPS watch), but can revert to 2G if needed.
Regarding the tracking interval, the Lachlan unit is configured to update at 60 second intervals. For the first day or so, they first did 5 minute intervals, but then narrowed it down to a 60 second option. This affects battery life a bit, but not too much. The update interval is for both GPS and cellular connectivity. This means it takes a GPS sample every 60 seconds and downloads it instantly, but doesn't actually track the GPS between those points. In fact, if on the tracking site you click on its point and turn on the 'show trail' option, you can see how it is not perfectly following the line, because it just connects these update points 60 seconds: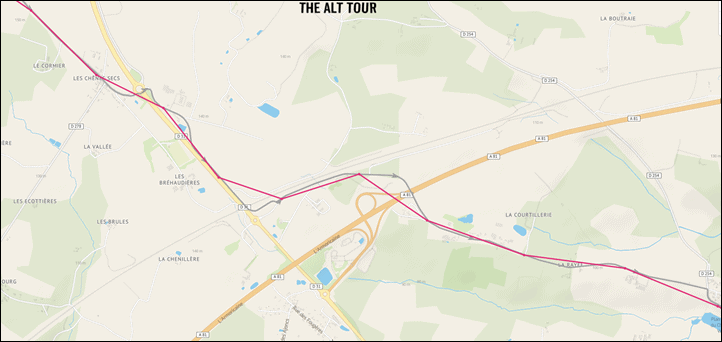 (The gray line was the planned transfer route, and the pink line its actual route, showing how the 60-second update means it appears to have cut pieces, but in reality it did not transport by magic through fields / highways / etc, but these are just the connected dots.)
If it does not have cellular connectivity, the device will * fill in * the GPS data points every minute. This means that it will transmit all those unsynchronized data points to the card for as long as needed.
The mapping platform:
Speaking of the map, part of the upfront fee you pay for Follow My Challenge allows them to load your route map onto their platform. In some cases, it is relatively easy. But in other cases, it's a hot mess. And Lachlan's journey is a good example. You can see that this is not a single giant route, but rather alternate routes each day showing both the official Tour de France route (in pink) and then the transfer route (in Grey). To the viewer, it's half transparent, but in reality it's quite complex.
In this case, the route was provided by Lachlan and his team, who did it in concert with VeloViewer. You probably know VeloViewer as the one that provides all but one of the WorldTour teams with their maps for the Tour de France and most other major events (especially in their team cars). Or, maybe you know them from their very popular Strava plugin / site. But the Tour teams also use them for mapping. And in this case, VeloViewer in collaboration with EF / Rapha Gone Racing did a lot of the work mainly on the transfer routes by offering safe routes to Lachlan.
(Lachlan Morton on day 2 of his tour, credit: Rapha)
VeloViewer did more than just come up with the initial route in conjunction with Lachlan, they also create the exact routes each day as they move daily. Let him ride his Garmin Edge1030 Plus in his turn. For example, if he planned to go 215 km, but decided to go further up to 255 km, that changes more than his progress. He changes the route files for tomorrow, but he also changes the camping plans not only for that night, but probably for the following night. This has an impact on Rapha's film crew with him (where they park their vans) and, more interestingly, the scheduled address he has to provide to WADA each evening, for anti-doping measures.
VeloViewer's Ben Lowe explained that today, June 29, "Lachlan plans to do an additional 70 km today (to another known campsite), although he makes the choice when he reaches the originally planned stop. . If he does that then Kim English [EF/Rapha's Gone Racing producer] will adjust this driving time for today and will then have to spend a few hours rescheduling the campsites for the next few days.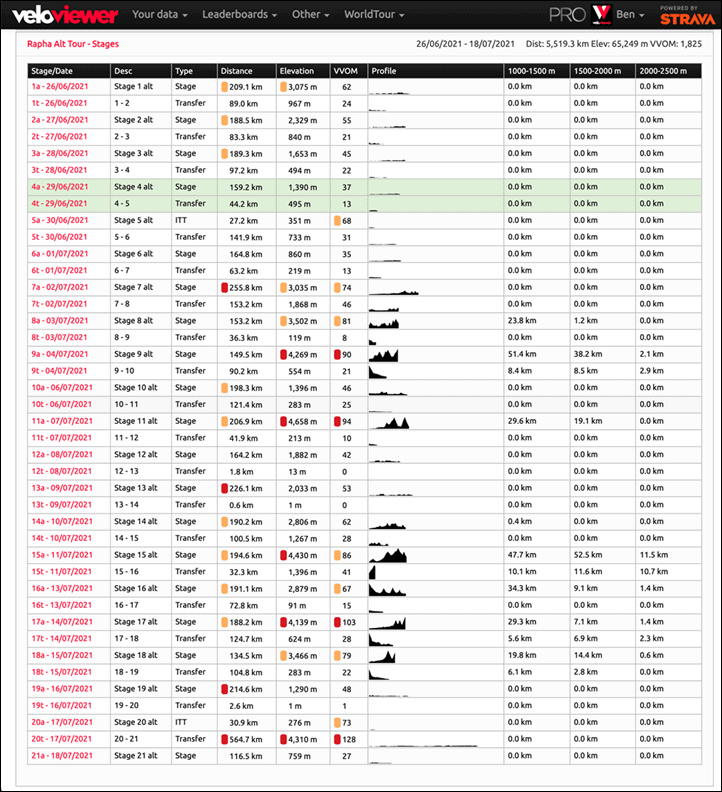 You can see this on the currently offered file splits, which are used to generate the GPS files to track each day. These are also used by EF / Rapha team / film members who also use the standard VeloViewer iPad on-board race tracking / planning system. Here's what it looks like in a team car at an event last year. VeloViewer has also added special integration with Follow My Challenge material, so that they can also see its position live, on the VeloViewer WorldTour package app.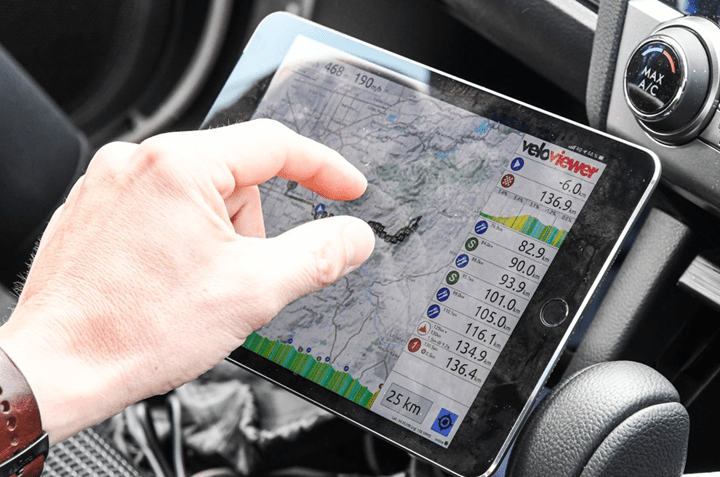 Speaking of which, as you may have noticed, there is a point on the map for "The Peloton". It's just another Follow My Challenge tracker in one of the Team EF team cars (as racers are not allowed to have unauthorized tracking gear on them). Since the team cars are usually quite close to the peloton, this is an easy fix for showing the race position.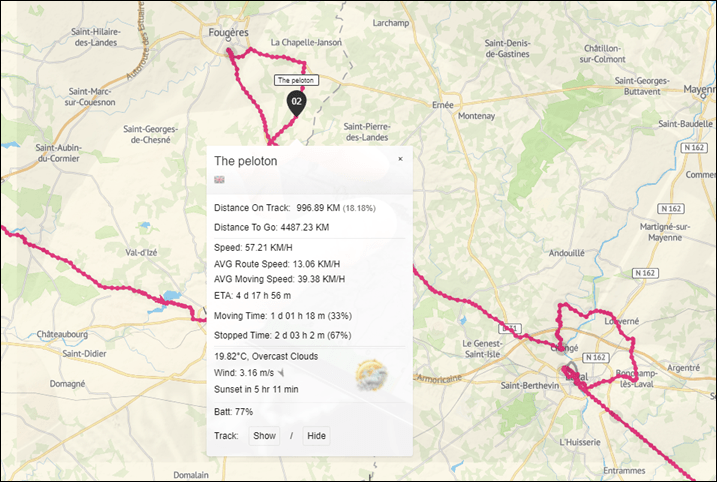 As you can see above, the Follow My Challenge platform displays rider statistics, which are obtained by combining the known track length and finding the closest point on the "known track". We can see it above for the Peloton, but also below for Lachlan as well:
However, things can get very interesting when the company organizes events on a larger scale. And in fact, on their website you can check out any event that is published live anytime. It's actually pretty darn cool. For example, at the moment there is the Transpyrénées 2021, which has some 160 runners with trackers: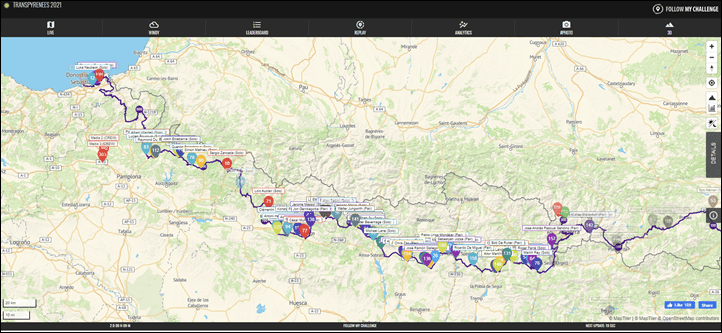 You can zoom in on each rider, but there are also a ton of analysis type pages (way more than these two screenshots):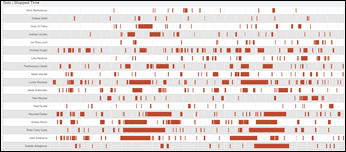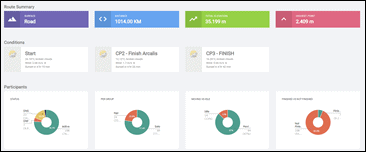 It also includes 3D mapping pages, Instagram pages for pulling photos of attendees based on hashtags or known / nominated accounts, and more. It's damn impressive.
Meanwhile, as you read this entire article, Lachlan continues to pedal – currently at 24.72 km / h, the peloton meanwhile is moving at 50 km / h as they approach the finish of step. However, he is building a good lead over the peloton, helped by short transfer stages in recent days and a very short individual time trial which is scheduled for the Tour tomorrow. Of course, later in the week he will pay off that debt with substantial transfer stages as well as long, straight stages where the peloton can maintain speeds much faster than him.
Still, I'll be watching his point just as closely. Because as always, there is something about watching the constant progression of a little point that intrigues me.
With that, thanks for reading!