the climbers we know »Explorersweb
A significant number of mountaineers overcame COVID fears and flight cancellations to reach Pakistan. Here they try K2, Broad Peak, or both.
Currently, K2 has three fully equipped commercial expeditions and several independent teams. Most enlisted at least one Pakistani climber to help with the climb.
At a meeting at the base camp a few days ago, everyone agreed on how to handle the still delicate situation with fixed ropes. The commercial teams in charge of the ropes are Karakorum Expeditions in Pakistan, Madison Mountaineering in the United States and Pioneer Adventure in Nepal.
Graham Zimmerman and Ian Welsted will be attempting the West Ridge, but so far everyone has been going through the Abruzzi Spur.
Ropes fixed up to C3
Three weeks ago it looked like most climbers would acclimatize to Broad Peak first. But attaching the rope to K2 went faster than expected. Climbers from Karakorum Expeditions from Shimshal visited Camp 2 last week. And the Sherpas working on the other two guided expeditions reached Camp 3 yesterday.
This allowed other climbers to make a first rotation to Camp 1. Some even made it to Camp 2. Tomorrow, the Pakistanis will fix even more ropes at C3, said outfitter Mirza Ali. European guides Jordi Tosas and Stefan Keck coordinate on behalf of Pakistani staff. Keck has a tracking device with him.
Most climbers focus solely on K2, while Elia Saikaly and Pemba Kanji Sherpa's film crew are primarily interested in helping Sajid Sadpara search for the remains of his father Ali and his companions John Snorri and JP Mohr. All three disappeared on the mountain last winter. Saikaly's tracker positions him at Camp 1, where he and his group "hang on to acclimatize", despite the high winds last night.
Two other K2 winter veterans, Oswald R. Pereira and Carlos Garranzo, also came to help put an end to last winter's tragedy. Garranzo was a close friend of Mohr and in particular of Sergi Mingote, who died in a fall on K2 days before Mohr's disappearance.
Garranzo is back at Camp 1, according to his tracker. While in British Columbia, he joined a small group that includes Pereira, as well as Anne Bialek and Hugo Ayaviri from Bolivia.
The mobile phone tower is still not available
Unfortunately, the newly installed cell phone antenna at Concordia went dead, returning climbers to rudimentary communication with their InReach devices. At least those with trackers are leaving a trail of digital cookie crumbs, which is, for now, the best source of current information.
The Belgian 8000unlimited team of Sophie Lenaerts, Steff Maginelle, Niels Jespers (his location is here) and Jeff Spellmans are going to Camp 2 tomorrow and Camp 3 after.
Meanwhile, Zimmerman and Welsted reached 6,100m on the western ridge of K2 for their first acclimatization. They also got a quick glimpse of the road ahead. Since then they have moved to Broad Peak to acclimatize more.
Wide peak
The first to arrive at Broad Peak, Don Bowie and Lotta Hintsa, made arrangements and spent several days between Camp 1 and Camp 2. Now everyone has arrived. The Karakorum expedition team set off as soon as the weather permitted. Today they have fixed the road to Camp 3.
Spaniard Victor Sans plans a double header K2-Broad Peak. Yesterday he passed Camp 2 on Broad Peak and reached 6400m, according to his tracker. He then returned to British Columbia.
Fotis Theocharis from Greece, a client of Karakorum Expeditions who also plans the double header, has already been to forward base camp on K2 and is currently at Broad Peak base camp, according to his tracker. The UK team Cumbria to K2, currently on Broad Peak, is among the few who can post daily updates, thanks to Inmarsat's BGAN service, which is good with data and voice in this region.
Other climbers, like Korean Kim HongBin (on his last 8,000m summit of the 14), are also on Broad Peak, but don't have trackers and haven't posted recently. Others include Qatari Fazar Badar, Azerbaijani Nastya Runova, Israfil Ashurli and Saulius Damulevicius, and Polish Monika Witkowska.
Skiers
Finally, the skiers: A few days ago, Norwegian Thomas Lon posted a video of his skiing down Broad Peak from Camp 1 in BC. Here is his tracker.
He joins forces with Deathzone Freeriders Vitaly Lazo and Anton Pugovkin. This latest pair plans to climb and descend every 8,000'ers. Currently they are on Broad Peak. Their climbing partners include Alexander Kedrov, Mitya Ryukzakov Dmitry Kutyanin and Dmitry Khonin, according to Carlos Garranzo.
About the Author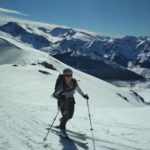 Angela Benavides
Senior journalist, published author and communications consultant. Specialized in high altitude mountaineering, with an interest in everything that surrounds the mountain: from economics to geopolitics. After five years exploring distant professional lines, I returned to ExWeb BC in 2018. I have felt at home ever since!