Solo traveler Horie, 83, moves to Hawaii 3 weeks after Pacific trip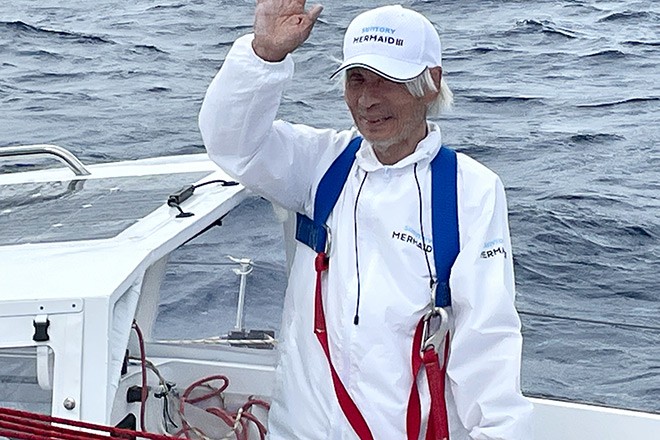 HAWAII – Octogenarian Kenichi Horie, who is aiming to become the oldest solo traveler to cross the Pacific, passed through Hawaii on April 17, a week ahead of schedule and apparently healthy and in top form.
When support staff stepped out into the waters off Honolulu to take pictures of 83-year-old Horie, they shouted, "Take care!" He replied, "Thank you!" and he beckoned to them. The veteran adventurer looked business as usual, according to the staff.
Horie set sail from San Francisco on March 26 local time on the Suntory Mermaid III, a new yacht measuring 19 feet (about 5.8 meters) from bow to stern.
The ship was the same size as the one on which he made his first solo voyage across the Pacific – from the port of Nishinomiya in Hyogo Prefecture to San Francisco – 60 years ago.
The yachtsman from Ashiya, Hyogo Prefecture, dictates his trip descriptions to his staff via a satellite phone, who then posts the trip diaries on his website.
According to the newspapers, after leaving San Francisco, he was soon hit by a storm.
"March 27: Shortly after setting sail, I was baptized by the storm," he said. "The winds and rains are easing now, but they will continue until the next morning, according to the weather forecast. It's rough!! But I just have to endure.
His navigation after the storm went well. But it is still difficult for him to send messages from his smartphone when he is on a pitching vessel.
"March 29: The cabin is watertight and rolling. It was demanding to type a text message on my smartphone under the circumstances. I felt like I was seasick."
Although Horie carries a satellite phone, communicating with others via ham radio remains one of his favorite pastimes.
"March 31: This morning I saw an oil tanker on the horizon of the sea for the first time since my departure. The ship was heading east. Tomorrow I'm going to use amateur radio.
Amateur radio fans across Japan attempted to communicate with Horie on April 1, with some setting up large antennas. But they could not reach him due to poor radio wave transmission conditions.
The next day, some could.
Eleven days after leaving, he sailed south to a location near 26 degrees north, almost the same latitude as the main island of Okinawa.
The temperature was 20 degrees where he was sailing.
"April 6: I want to take a shower, that is, scoop up seawater with a bucket and pour it over my head. Just washing my head with seawater soap must be refreshing. But it's still a bit chilly. I should wait a few more days.
Horie wrote that he had an adequate supply of food and water.
"April 7: I loaded 164 packets of autoclaved rice and I have 150 packets left. As for water, there are 60 of the 70 2-liter bottles left. I haven't touched any of the 72 cans of non-alcoholic beer yet. I have 60 packets of autoclaved curry, which come in six varieties. I've only had a few.
Horie has just over 6,000 kilometers to cover before arriving at the port of Nishinomiya in early June.