Roy Dean Welch | Obituary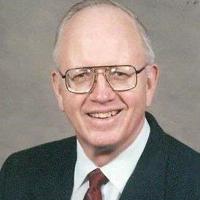 Roy Dean Welch, 91, of Ballwin, Missouri, died Feb. 14, 2022, at Missouri Baptist Medical Center. Roy was born on February 14, 1931 in Beaumont, Texas, the son of Adlai Guy Welch and Ruth Elizabeth (Dominy) Welch. He graduated from Alvin High School in Alvin, Texas in 1948 and Baylor University in 1952. Roy met the love of his life, Nelma (Nell) Gilbreath, at Baylor, and they married July 4, 1952.
He earned his private pilot's license when he was 16, after earning money for flight lessons by washing planes at a local airport in Alvin, Texas. He served his country in the US Air Force Reserve in 1950-52 and in the US Army in 1952-54. Roy worked for Southwestern Bell for 39 years as a network design operator. He was active in all aspects of amateur radio. His interest in the space program led him to receive and record radio signals from the first satellite to orbit the earth, the Soviet Union's Sputnik. His interest in satellites continued and he was a member of the Radio Amateur Satellite Corporation (AMSAT). He used his programming skills to write ORBITS III, to track when a satellite was overhead and available for communication. Before the Internet, Roy's station was part of the relay system that transmitted messages around the world via satellite. He was always available to answer questions from other amateur operators and was instrumental in erecting a station in the Soviet space exhibit at the St. Louis Science Center, from which he spoke to cosmonauts of the Soviet space station MIR. He has received awards for his work in supporting the educational and technical aspects of his hobby. Roy was a loyal member of Ballwin Baptist Church, where he taught Sunday school class to 5-year-olds for many years.
Roy will be fondly remembered by his wife of 69½ years, Nelma (Nell) G. Welch of the house; daughters Jeannie (Richard) Jensen of Oskaloosa, Kansas, and Kathryn Welch of Brentwood, Missouri; his granddaughters Megan (Josh) Burdette of Merriam, Kansas, and Rachel (Kyle) Parker of Denver, Colorado; great-grandchildren, Ryder, Kodi, Cash and Nya; sister, Ruth (Dan) Schovajsa of Alvin, Texas; brother, James (Patsy) Welch, of Smithville, Texas.
A private memorial service will be held at a later date.
To plant a tree

in memory of Roy Welch

as a living tribute, please visit Tribute shop.