Residents at BC Wildfire, BC Continues to Innovate in Fire Fighting and Detection | iINFOnews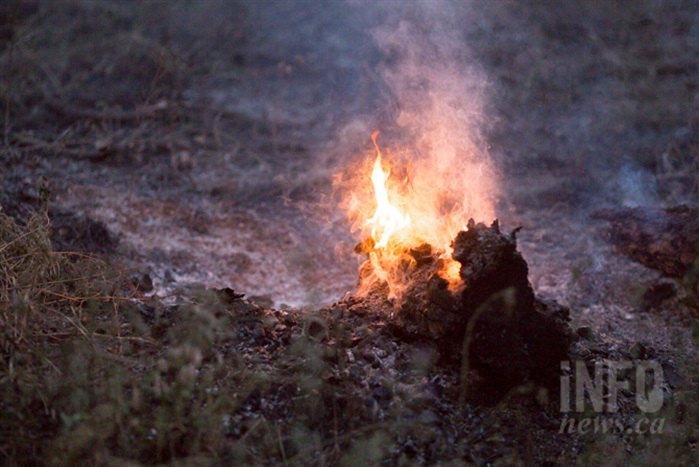 August 09, 2021 – 7:00 a.m.
New technologies and solutions are often proposed and developed in British Columbia as the wildfire season approaches, and 2021 is no different.
Forest fire detection has evolved in British Columbia, especially since the 2017 fire season, but about 40% of wildfires in the province continue to be reported by the public. This can include anyone from rural residents to roadtrippers and even airline pilots.
For rural communities, a GoFundMe was started with an idea to help local residents catch wildfires even earlier in the White Lake area, north of Salmon Arm.
The fundraiser was launched to install webcams that will take pictures of the surrounding hills intermittently every 30 to 60 seconds, according to the GoFundMe page.
Two webcams have already been ordered and are about to be installed with the aim of allowing the public to detect local forest fires earlier, with the added benefit of monitoring changing weather conditions.
Likewise, a Kamloops-based amateur radio club also has webcams on local mountains like Mount Lolo and Greenstone Mountain. While webcams are useful for monitoring potential forest fires, they are mounted on radio repeater towers, which could be essential in an emergency.
Myles Bruns is the President of the Kamloops Amateur Radio Club and has been in talks with the Thompson Nicola Regional District to expand their transponder infrastructure to be used as a backup during emergency scenarios.
"Let's say a fire burns between Kamloops and Logan Lake and it cuts the fiber (Internet) connection and there is no Internet in Logan Lake. They could activate our back-up system to communicate with Emergency. Management BC, "Bruns told iINFOnews. California.
Although there aren't enough relay towers in the area to practically use the radio systems as backup internet connections, he said more infrastructure could help in the worst case scenario.
Bruns hopes to return to the regional district to discuss radio signals as backup Internet connections for rural communities, as long as there is a receiver within the community to connect to the radio waves.
As a last resort, a Kamloops resident decided to install sprinklers on his roof. With a brass sprinkler head, garden hose, and PVC tubing, Curt Steeves installed the sprinklers after a wildfire threatened the Juniper neighborhood in Kamloops on Canada Day.
Logan Lake has installed rooftop sprinklers since 2013.
However, while it can be tempting to just throw a sprinkler on the roof before fleeing a wildfire, it can come at a cost. Central Okanagan West regional manager Wayne Carson said the practice drained a reservoir in Fintry when the area was evacuated in 1998.
"The best bet is to go and let the professionals take care of your house," Wayne Carson told iINFOnews.ca. "They are trained to do this. They have tons of gear there and have a really good chance of getting you home. Let them do it.
Private companies have also gotten into the game. A Fort St. John company has developed a system of huge stationary water cannons that it is trying to lease to municipalities, promising to "rain" where it is. needs the most.
BC Wildfire Service cannot be everywhere, but in addition to trusting the public eye, it has invested in new technologies to predict and predict forest fires.
Since the Abbott and Chapman report in 2018, which studied the 2017 forest fire season and made recommendations for improving provincial responses, the Forest Fire Department has created the Predictive Services Unit and the Research and Research Division. innovation.
Predictive Services, as the name suggests, forecast the fire season and conditions across the province, along with weather and ground measurements. While fire behavior specialists will be based on major fires to determine where a specific fire may progress.
The ongoing wildfires at White Rock Lake and Tremont Creek are expected to increase on August 5 due to windy and drought conditions, which has led the Forest Fire Department to recommend evacuation orders and well alerts. beyond the fire perimeters.
The Research and Innovation Division aims to develop and acquire technology that can help better predict fire conditions and detect new starts in British Columbia.
The forest fire department will conduct its own aerial patrols to look for new fire starts, but the detection and projection of forest fires may also involve meteorologists, climatologists and fire behavior specialists to monitor both the fires. weather conditions, humidity and soil moisture. This can help determine the degree of fire danger in an area and predict the movement of an ongoing forest fire.
When it comes to forest firefighting, it is common for the forest fire department to hire private equipment operators and helicopter pilots to assist in their efforts.
"We have stressed or contracted every helicopter in British Columbia, and we are still juggling and keeping an eye out for additional resources … Our biggest challenge this year is the fire season that is hitting all of Canada and America. North at the same time, "Rob Schweitzer, director of fire center operations for the BC Wildfire Service, said at a press conference Aug. 4.
"Technology is changing so quickly that it's hard to say we still have the best, the newest and the best, but I firmly believe that we have significantly increased this capacity and will continue to do so," said Schweitzer.
As the 2021 wildfire season looms, the BC Wildfire Service has recorded 143 new fire starts this week, as of August 6. An estimated 583,246 hectares have burned in the province so far, including 290,273 hectares in the Kamloops Fire Center.
– With notes by Rob Munro and Shannon Ainslie
---
To contact a reporter for this story, email Levi Landry or call 250-819-3723 or email the editor. You can also submit photos, videos, or news tips to the newsroom and enter a monthly raffle.
We appreciate your comments and opinions on our stories, but let's play well. We will not censor or remove comments unless they contain irrelevant statements or links, unnecessary vulgarity, false facts, spam, or clearly false profiles. If you have any concerns about what you see in the comments, email the editor through the link above.

News from © iINFOnews, 2021