Perkins turns a childhood hobby into community service | Lifestyles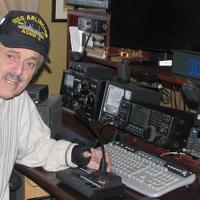 Allen Perkins has been an amateur radio operator in Cumberland County since 1983.
"While going to school in 1956, my uncle gave me a Hallicrafters SkyBuddy so I could get interested in amateur radio," Perkins said. "As my family moved around a lot, I lost interest in radio."
In 1981, Perkins and his wife moved to his home state of Maine to start a new life. Being in a strange state and knowing no one but his wife's family, Perkins thought maybe the time was right to try ham radio again.
"I found a local radio club in the town of Ellsworth, Maine where we lived and the members advised me to contact a Lee Branum, KL7IJG. Lee was in his final year with the Navy before to retire and was very happy to be my mentor, or speaking of ham, my 'Elmer.' I studied for a while and finally passed my novice test and got the call KA1KIX that I kept until 2000. »
After moving to the town of Saco, ME, Perkins passed his general license and began to become more active in amateur radio with the Portland Amateur Wireless Association, the oldest club in the state. "I was becoming more and more involved in emergency communications and just prior to retiring from my career with Irving Oil LLC of Canada, I was elected club president," Perkins said.
After his retirement, Perkins and his wife moved to Crossville in 2009 where he became much more involved with the local club.
"I was appointed Assistant Emergency Coordinator by Wayne Alley, then Emergency Communications Coordinator for Cumberland County. As I became more involved with the club and members, I was very active in climbing towers for other hams and gave many hours of free time to improving the pass- time and help my community.
In 2013, Perkins fell from a tower and was in serious condition for nearly six months. After surviving the fall, he was appointed emergency coordinator for the county and was instrumental in acquiring radios, antennas and other equipment that now sits in the operations center of building emergency EMA/911.
Over the years, Perkins has been active in severe weather weather tracking with direct contact with the National Weather Service in Nashville. "In bad weather, myself and a few others who are trained weather spotters enlist other operators in what is called a Weather Spotters Net. Information obtained during these times is transmitted to the National Weather Service in Nashville by computer and radio, giving real-time information to help give the public information to help keep them safe," Perkins said.
"Each year, I participate in our National Amateur Radio Day exercise. I am currently part of the local emergency planning committee and I assist the director of the EMA in the coordination in the event of a major emergency in order to provide operators for emergency communication at the distribution points as well as shelters for displaced persons and families.
"I really enjoy this hobby and encourage the public to at least watch what we do and maybe find someone or others who might want to become amateurs who not only enjoy talking to the world, but contribute to the well-being and safety of our community."
In 2019, Perkins finally landed his final jump and became an extra amateur with the new call sign of N1ATS, which he requested as he was in the Army National Guard Air Traffic Service, retiring as a first sergeant from the ATS company in 1999. This is the highest license in amateur radio.
Perkins is also a Vietnamese U.S. Navy veteran and was part of the Apollo 9, 10 and 11 recovery crew with the first men on the moon.
"I continue to this day to serve the public and my fellow hams."