Mt. Nebo store offers a change of pace | State and region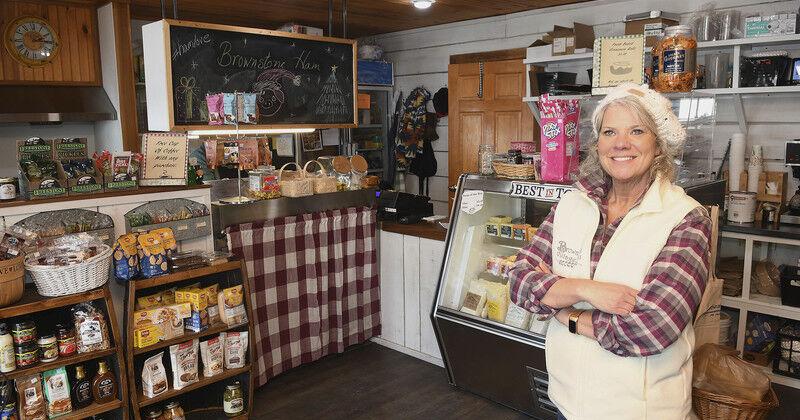 For this story and more, pick up a copy of the new issue of West Virginia South, available at local retailers or The Register-Herald.
——
"You can just pay for your sandwiches and I'll make them when they're ready," Mary Igo tells Karen King, who stopped at the Brownstone Mill to grab lunch for friends.
King is one of a group of retired teachers who regularly get together for a bite to eat.
Today the group is reunited at the Tractor Bar in Mt. Nebo.
The former physical education teacher was appointed to return to the Brownstone factory and place the order.
It's a stop she makes several times a week.
She tried just about everything on the menu, but chose The Big Guy – a bloated Reuben – for today's order.
"It's the Big Guy today, but looking through the menu I thought, 'Man, I'm starving for all this,'" King said.
King, who lives nearby, is just one of many regular faces at Igo's specialty grocery and deli.
"When people come in, they always say, 'How are you?'" Igo said. "They want me to be busy. They want me to stay here.
And so far so good.
• • •
The Brownstone Mill is Igo's first real business in the food industry.
While a student at Glenville State College, the Nicholas County native, with "the gift of small talk," worked part-time at a Summersville radio station.
Part-time became full-time and soon a career, as Igo worked in radio at Fairmont and Clarksburg and even in Texas.
She had been away from home for more than two decades when she returned to Nicholas County and took a job in marketing at the Summersville campus of New River Community and Technical College.
Her responsibilities grew over the years, and in 2015 she was named campus director.
She said it was a job she loved because it helped students on their career path.
When Covid-19 hit, however, she started to get upset.
"I was just tired of Zoom meetings and sitting around all day and had to do something different," she said.
The Tractor Bar had long been one of her favorite places in Mt. Nebo and she had regularly helped him out with food while running a part-time catering business out of her commercial kitchen.
So early in the pandemic, while sitting on the roof of the bar, she had an idea looking at the small waterfront building already known as Brownstone Mill.
She had, five years earlier, helped to equip the space to make a sandwich shop.
"I kind of pitched the idea of ​​a sandwich shop to him (owner Steve Jones), but I suggested he find someone else to run it," she explained.
And that's what happened in the summer of 2019.
However, with most of the world stalled at the start of 2020, Igo doubted the previous year's tenant would return.
"So I said, 'I don't think the girl you rented it to last summer is coming back,'" she said, recalling a conversation with Jones. "I said, 'I think I should run it and I should do my sandwich shop. ""
In October 2020, Igo did just that.
• • •
In addition to his deli items, Igo stocked the Brownstone Mill with a "bit of everything."
"We have great food and unique things you won't see anywhere else," she said.
Igo offers its customers traditional groceries, but also offers an assortment of gluten-free products.
"I'm gluten intolerant and found there weren't many places to shop here," she said. "Plus, I'm one of the only restaurants in multiple counties to have gluten-free bread on their menu."
Customers can also view a variety of unique seasonings, spices and blends.
"Anything pickled is popular and people go crazy over mustards," Igo said, pointing to the Lusty Monk brand she serves on many of her sandwiches.
The second level of the Brownstone Mill offers a variety of baked goods, nuts, dried fruits, sauces, jams and jellies.
Igo said nostalgic sweets are also popular because adults and children often crave a taste of the past.
"Hammond's candy bars are also a big draw," she said of the candy bars infused with unique flavors like peanut butter and jelly, pop and even pigs and taters, which are packed with potato chips and bacon bits.
While many of her featured items are products she orders, Igo is also careful to source locally when she can, as she offers cornmeal, eggs, honey, and maple syrup. local maple.
The walls of her shop are also decorated with paintings and quilts made by local artists.
"I really want to celebrate local artisans," she said.
Igo said growing the work of local artisans was a goal for the year.
"I've been so busy making sandwiches that I haven't had time to do it yet," she said.
The demand for these sandwiches was something that took her by surprise.
At the Tractor Bar, she had become known for her slow-smoked hams.
"Honestly, I thought it would mostly be hams here too, and it transitioned into more people wanting food, sandwiches and salads," she said.
It's the aroma of the two smokers out front – full of ham, pork and even bologna – that draws people in.
"The ham is kind of what made me decide to have a sandwich shop," she said, explaining that the seasonings and smoke, along with "the love I put into it," are what makes it unique.
"I had a client who told me it was like getting Christmas ham any time of the year," she added with a smile.
The meats are offered as stand-alone items, but Igo said they're a big part of what makes the sandwiches so popular.
"People really like them," she said.
And, she says, customers love her homemade cinnamon rolls, macaroni and potato salads, chocolate truffles, cookies, soups and even salads.
"I eat one of these salads every night for supper," she said, citing Mediterranean as her favorite.
Besides the experience she gained from watching her mother cook, Igo said everything she knew about cooking and baking was self-taught.
"And I was a 4-Her," she laughed. "I still consider myself a 4-Her."
• • •
Igo said she was enjoying her new foray into her career and looked forward to the busy summer and autumn seasons as travelers to New River National Park join her mix of regular regulars. .
"I had a lot of business last year with people passing through," she said, adding that her unique offerings as well as the promise of a great meal often drew them in. "Some of them stopped by because they saw me online and saw I had gluten-free sandwiches. Some just saw the pictures and thought it looked interesting, local, and quaint. .
She's been busy since she opened the doors.
Along with adding more local artists to the mix, she said she hopes to eventually take a day — or even a week — away from work.
"I'm here at some point almost every day," she said. "And when I'm not here, I buy supplies for here or order for here."
Despite the busy schedule, however, she said she hopes the Brownstone Mill will continue to grow and encourage new and familiar faces to stop by.
"It makes you feel good when you walk in," she said. "You have fun music playing and it brings you back to a good time. You can't walk in here without a smile.
"Heck, if you smell cinnamon rolls or ham, you can't help but smile."
• • •
Le Moulin Brownstone is open Monday to Friday from 11 a.m. to 6 p.m. and Sunday from 12 p.m. to 5 p.m.
You can dine alfresco on a covered terrace during the warmer months.
Visit www.brownstonemillwv.com or call 304-619-3564 to place an order.
— Email: [email protected]