Eight-year-old uses ham radio to talk to astronaut in space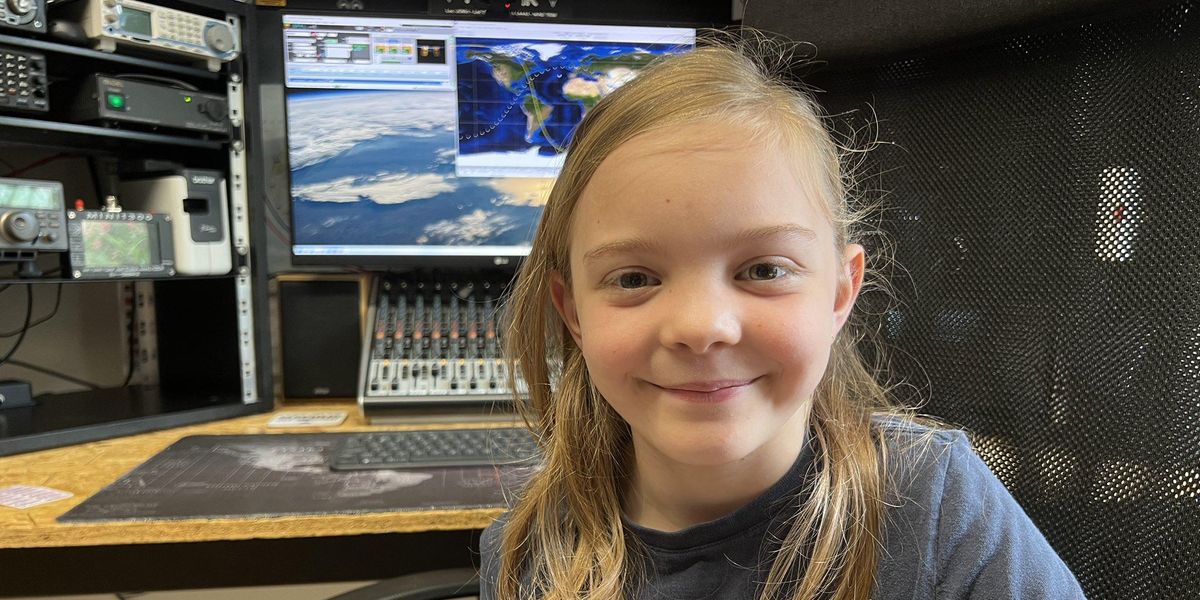 Matt Payne, from Kent, England, and his 8-year-old daughter, Isabella Payne, share two distinct passions: outer space and amateur radio.
On August 8, the father-daughter duo was able to combine the two interests. The result was, dare I say, out of this world.
Isabelle, seen in space.Twitter
Using Matt's ham radio, station name M0LMK, Isabella was able to place a call to another ham radio station…one that happened to be aboard the International Space Station (ISS). Talk about a long distance call.
On the other end of the line was astronaut Kjell Lindgren, commander of NASA's SpaceX Crew-4, who was more than happy to chat.
---
Matt posted a short audio clip of their sweet exchange on Twitter, where Isabella nails ringing call signs before introducing herself.
"November, Alpha, One, Sierra, Sierra. Mike, Zero, Lima, Mike, Kilo… My name is Isabella, I'm 8," the precocious girl says confidently to Lindgren.
The astronaut, visibly charmed, replies "Isabella, it's great to chat with you, thank you for answering the radio and saying hello", before finishing.
Matt then thanked Commander Lindgren, saying "you changed his world."
23rd April 2016. A 2 year old sat in my lap and watched pupils at Wellesley House School chat with @astro_timpeake, an event I helped organize. Today she had her chance. Thanks a lot @astro_kjellyou changed his world. #iss#NASA#ARISShttps://t.co/ImfevefePV

— Matt (@m0lmk) August 2, 2022
He revealed that when Isabella was just 2 years old, she watched students talk with a world famous astronaut Tim Peak. Since then, she wanted to have her own conversation with a space explorer.
"Today she got her chance," Matt wrote.
Lindgren responded by saying that he had "great fun" talking with other radio amateurs around the world, but that his interaction with Isabella "might be my favorite contact so far".
I had a lot of fun using the #ARISS amateur radio #NA1SS on the @Space station talk with radio amateurs around the world. I even (unofficially) worked stations on all continents! But he might be my favorite contact so far. Thank you Isabelle and @m0lmk! https://t.co/Z2pWUbEZZr

—Kjell Lindgren (@astro_kjell) August 2, 2022
In an interview with NPR, Matt described how reaching Lindgren was the result of meticulous timing with a hint of luck.
"First of all, you need an astronaut who chooses at their own pace to use this equipment to talk to us operators here on Earth. On top of that, you need to have the space station in a visual line of sight" , he explained.
Fortunately, the planets aligned accordingly.
In the same interview, Isabella shared that her dream was to become a communications specialist at the Mission Control Center, mainly so she could "say things like – hello, is everything still floating?" And do you enjoy your food? Clearly, she is natural and on her way.
The ISS seems to make random contact with hams all over the world on a regular basis, so if you've ever considered the idea of ​​reaching out to space, now's your chance. Matt hopes NASA schedules special times for the ISS to have similar conversations with other kids,"because it brings so much joy and inspiration."
There are so many amazing hobbies out there, but ham radio takes the possibilities, as another beloved space traveler would say, "to infinity and beyond."