Covid rates plummet in Devon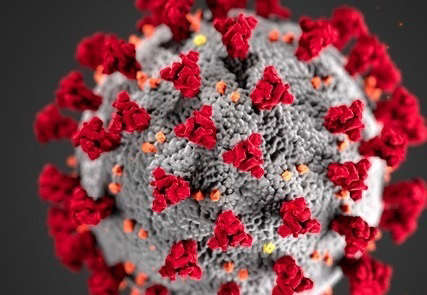 Covid Generic (Permission, Local Democracy Reporting Service)
County still above UK average rate
The number of covid cases has fallen across all areas in Devon, reflecting the nationwide reduction in the virus.
Numbers for the week to last Thursday [10 February] show that the rate in the Devon County Council area and Torbay both fell by around 30%, with Plymouth falling by 23%.
However, while covid cases started to fall earlier elsewhere in the country, Devon is still above the UK average rate of 642 cases per 100,000 people. Devon is 831 and Torbay is 823, while the figure is slightly higher in Plymouth at 944.
At district level, Torridge, Exeter and North Devon have all seen falls of more than a third in the past week, with infections in Teignbridge and South Hams falling by just under 30%.
The new figures mean that Torridge – once one of the country's most infectious areas for covid – remains the least common area in Devon with 520 cases per 100,000. Exeter and East Devon have the highest district rate of 980.
The latest data shows a continued sharp reduction in cases among younger age groups, which had previously been instrumental in driving the new year rise in cases after returning to school.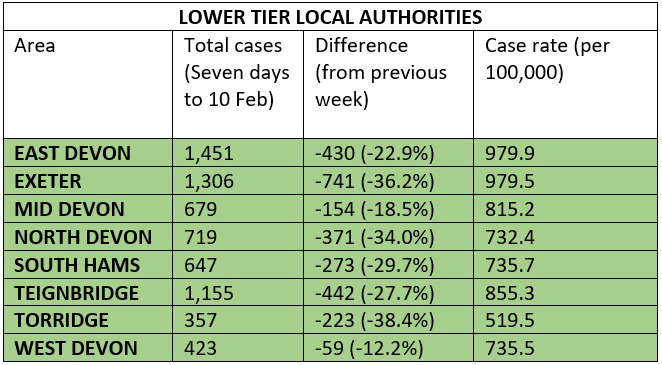 HOSPITALIZATIONS
According to the most recent government data from Tuesday February 8, 183 covid patients were in Devon hospitals, a reduction of 43 from a week ago. The majority – 100 – are in Plymouth.
Elsewhere, 43 patients were at the RD&E in Exeter, 29 in Torbay and 11 in North Devon.
However, on Tuesday, Dr Paul Johnson of the NHS Devon Clinical Commissioning Group revealed the hospital's figure had since fallen to 156, due to a drop in the number of people being treated in Plymouth. He added that only one person is in intensive care with covid.
DEATHS
Twenty-six more people have died in the county within 28 days of testing positive for covid during the last full weekly period (through Thursday February 10). Thirteen were in the Devon County Council area, three in Torbay and ten in Plymouth.
A total of 1,606 people in Devon (including Plymouth and Torbay) have died within 28 days of testing positive since the start of the pandemic (as of February 14).
VACCINES
The number of people aged over 12 who have received their (third) booster vaccination against covid is 71% in the Devon County Council area, 66% in Torbay and 60% in Plymouth.
The take-up rate for at least one dose of vaccine is 88% in the Devon County Council area, 86% in Torbay and 85% in Plymouth.
The proportion of people who have had two injections is 84% ​​in Devon, 81% in Torbay and 80% in Plymouth.