Annual Field Day for Ham Operators | News Examiner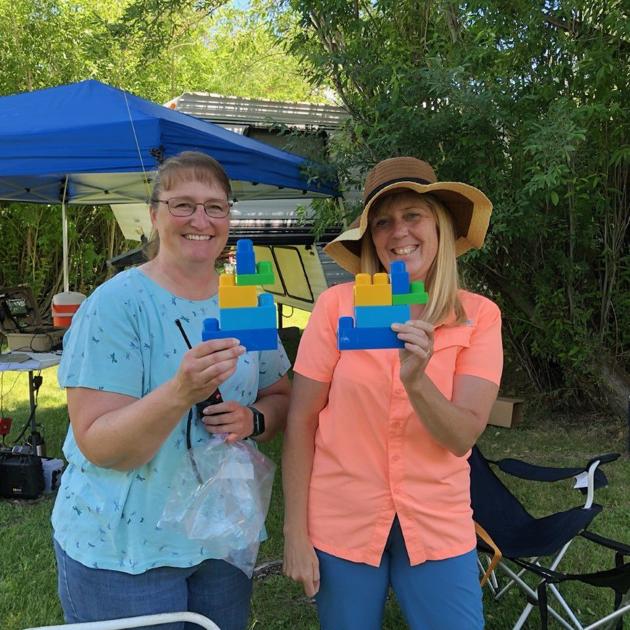 Take two sets of identical shaped and colored Legos, then challenge two Amateur Radio Operators to accurately communicate instructions to connect all the pieces in exactly the same way to win a prize. This was one of the activities Shirley Larsen (call sign AD7HL) put on during the two days the Bridgerland Amateur Radio Club, better known as BARC, enjoyed on the last weekend of June. Shirley and her husband, Air Force Commander William Larsen (AD7HK) got their Ham Radio license in Hawaii 47 years ago and she runs twice monthly "calls" for the ladies at BARC when 'They test batteries, skill and accuracy to signal at a specific time and frequency. . Concretely, Shirley and William lived all over the world, often in places where direct communication was not possible, and having amateur radios kept them in touch, she said.
To increase the radio's stance, about 60 BARC members participated in the National Ham Operators weekend exercise, an annual event since 1933. They brought their RVs, RVs, tents and, most importantly, their antennas and radios, to test and hone their skills by bouncing signals on the Mount Logan repeater from a beautifully bucolic location adjacent to Bear Lake at the Kearl Residence in Fish Haven, Idaho. The main goal during the 24-hour period in the field was to catch as many call signs as possible from other operators across the country. At the start of the field day, BARC Treasurer Kevin Reeve (N7RXE), with 31 years behind him as a ham operator, took care of the pitch as his associates reported contacts from fourteen other jurisdictions, including British Columbia and Alberta, Canada to the north and Wisconsin to the east. Adding to the challenge posed by the less than stellar atmospheric conditions of the day, power sources were limited to batteries, solar panels and generators. Seeing the day's power restrictions as possibilities to be encountered in an emergency when hams can be called in when normal communications may be totally cut off or temporarily interrupted, BARC members put on headphones, meticulously tuned dials. and readjusted equipment to maximize the ability to establish contacts around the country.
As he explained the almost bewildering number of ways amateur radio operators can use their equipment to send and receive signals, club president Ted McArthur (AC7II) repeated the jargon that has been his everyday language since 1976, date to which he received his license. He mentioned Morse code, Zoom and Skype for biannual "red beacon" scenarios to test operator skills, Winlink sends emails and radio attachments, astronauts usually have a ham license before they go. go into space, BARC member Theo Thomson is the mainstay of the Mount Logan Stake Emergency Communications System and many annual running and community events rely heavily on BARC's behind-the-scenes support. Among these are the Bear 100 and Lotoja races where BARC members do not lay down or lay down their gear until all participants have been tallied. In some cases, runners gave up before the end point of the challenge and they were considered lost until BARC detectives carefully followed them to their homes and then re-listed them in the "found" column. .
Sheriff's departments, hospitals, first responders, various government authorities and religious groups, among others, rely on amateur operator groups such as BARC to intervene in routine and emergency situations to assist when regular communications cannot fill the void, are overloaded or are insufficiently agile. McArthur's constant interest means, "I usually don't go anywhere without a radio. As an 8 or 9 year old, his uncle introduced McArthur to the amateur radio world and he now has a piece of equipment in every vehicle he owns and has more radios than he could quickly identify when seen. requested a global count. He recalled that over the years, club member Eldon Kearl (K70GM) reported nine accidents in Logan Canyon using a radio where cell service was not available. McArthur once spoke with an amateur radio operator in Tanzania and recommended investigating an amateur radio license to make new friends at home and abroad, as well as to serve the community.